GROWING IN THE GLOBAL MARKETPLACE
With a presence in more than 25 countries and employing nearly 35,000 people, Textron is strategically positioned to provide integrated product solutions and services to customers around the globe.
We recognize that our growth depends on having a global mindset, with the acumen to recognize new opportunities: the opportunity to be on the ground in emerging, profitable markets; the opportunity to work with an indigenous and skilled workforce; the opportunity to better serve our global customers; and the opportunity to leverage the cost benefits of being both an efficient global supplier for our customers and working with a competitive supply base.
We are expanding our international operations, growing our sales and distribution capabilities in Central and Eastern Europe as well as in India, China, the Middle East and Central and South America, where long-term growth prospects are strong. Offices and manufacturing plants have been established in the most strategic areas, bringing us closer to customers in the markets we serve.

CUSTOMERS WORLDWIDE TRUST OUR POWERFUL BRANDS
TEXTRON AVIATION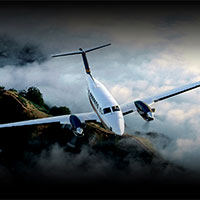 Textron Aviation is home to the iconic Beechcraft, Cessna and Hawker brands, and continues to lead general aviation through two principal lines of business: aircraft sales and aftermarket. Aircraft sales include business jet, turboprop and piston aircraft, as well as special mission and military aircraft. Aftermarket includes commercial parts sales and maintenance, inspection and repair services.
At the end of 2015, Textron Aviation had approximately 11,700 employees worldwide.
Primary manufacturing facilities are located in Wichita and Independence, Kansas; Columbus, Georgia; and Chihuahua, Mexico.
Textron Aviation companies have delivered nearly 251,000 aircraft to 170+ countries, with a combined fleet exceeding 100 million flight hours.
With more than 6,900 aircraft delivered to-date and 97% still in operation, Cessna Citations represent the largest fleet of business jets in the world.
Textron Aviation provides customers across the globe with the world's largest general aviation service network made up of 21 company-owned service centers, 60 mobile service units and over 400 authorized independent service facilities. Textron Aviation's commitment to service was furthered in 2015 with the opening of a new, 156,000 sq. ft., state-of-the-art service center at Paris-Le Bourget Airport and placement of the first dedicated service aircraft in Europe.
Since 2012, Textron Aviation has certified eight new aircraft. In 2015, this trend continued with certification and first delivery of the new Citation Latitude, a game-changing mid-size jet. NetJets placed a firm order for the first 25 of 150 Citation Latitudes.
We certified our ProLine Fusion avionics on the King Air 250 & King Air 350i and finalized an agreement with customer, Wheels Up, for delivery of 35 more King Air 350i aircraft; Cessna received an order from Joy Air for delivery of 20 Grand Caravan EX Amphibian turboprops in China.
Textron Aviation 2016 Revenue by Region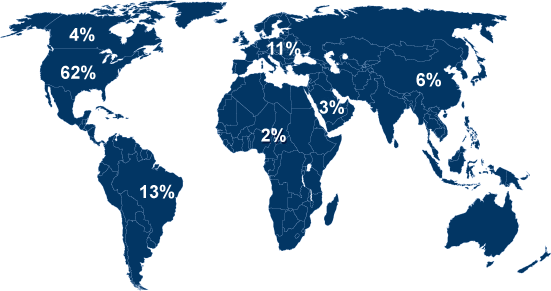 For more information about Textron Aviation, contact:
Textron Aviation
One Cessna Blvd.
Wichita, KS 67215
U.S.A.
+1 (316) 517-6000
txtav.com
---
BELL HELICOPTER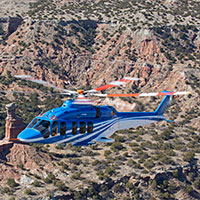 Bell Helicopter is an industry-leading producer of commercial and military vertical lift aircraft and the pioneer of the revolutionary tiltrotor aircraft. Globally recognized for world-class customer service, innovation and superior quality, Bell Helicopter's global workforce serves customers flying Bell Helicopter aircraft in more than 120 countries.
At the end of 2015, Bell Helicopter had approximately 7,050 employees.
Major facilities are located in Fort Worth, Texas; Amarillo, Texas; Piney Flats, Tennessee; Lafayette, Louisiana; Mirabel, Canada; Prague, Czech Republic; and Singapore.
Approximately 13,000 Bell Helicopter manufactured and licensed aircraft are flying in more than 120 countries.
More than 29% of all helicopters in operation today carry the brand, including both military and commercial applications.
Worldwide service network of more than 100 Bell Helicopter authorized Customer Service Facilities and eight Bell Helicopter operated service centers, two of which are co-located with Textron Aviation: one in Singapore and one in the Czech Republic.
Received #1 ranking in all three of the aviation industry's most prominent customer surveys: Aviation International News' 2015 Product Support Survey for the 10th consecutive year; Professional Pilot's Helicopter Product Support Survey for the 22nd consecutive year and Vertical's Helicopter Manufacturer's Survey.
Bell Helicopter 2016 Revenue by Region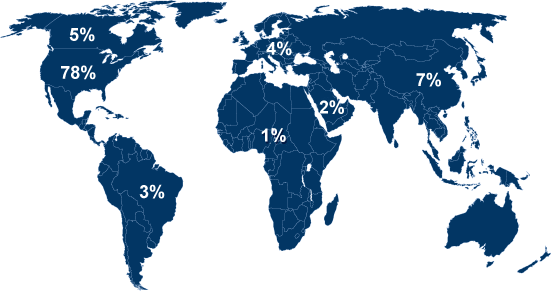 For more information about Bell, contact:
Bell Helicopter
P.O. Box 482
Fort Worth, TX 76101
U.S.A.
+1 (817) 280-2011
bellhelicopter.com
---
TEXTRON SYSTEMS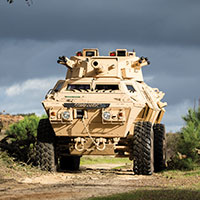 Textron Systems' businesses develop and integrate products, services and support for aerospace and defense customers, as well as civil and commercial customers around the globe. Harnessing agility and a broad base of expertise, Textron Systems' innovative businesses design, manufacture, field and support comprehensive solutions that expand customer capabilities and deliver value.
At the end of 2015, Textron Systems had approximately 4,600 employees worldwide.
Manufacturing facilities are located in Tampa, Florida; New Orleans, Louisiana; Hunt Valley, Maryland; Wilmington, Massachusetts; Missoula, Montana; McAlester, Oklahoma; Williamsport, Pennsylvania; Charleston, South Carolina; Austin, Texas; Sterling, Virginia; Melbourne, Australia; Montreal, Canada; and Southampton, United Kingdom.
Textron Systems Unmanned Systems continued good momentum on fielding the Shadow® RQ-7B V2 Tactical Unmanned Aircraft System throughout 2015, by maintaining a production rate of 20 system upgrades per year for the U.S. Army, Marine Corps, and Special Operations Command.
Through 2015, Textron Systems has sold nearly 10,000 armored vehicles to the U.S. Army and a growing roster of international customers.
Sensor Fuzed Weapon (SFW) is a highly effective smart air-to-ground area weapon designed to defeat moving and fixed targets on land and at sea. More than 8,200 SFWs have been ordered by domestic and international customers, including the U.S. Air Force, Oman, Turkey, India, Republic of Korea and Saudi Arabia.
TRU Simulation + Training manufactures simulators and training devices for some of the world's largest aircraft OEMs, airlines, and aviation training academies. In 2015, TRU opened a Maintenance Training Academy in Wichita, Kansas, and a second ProFlight pilot training center in Lutz, Florida, where we train general aviation customers on a growing number of aircraft platform.
Textron Systems 2016 Revenue by Region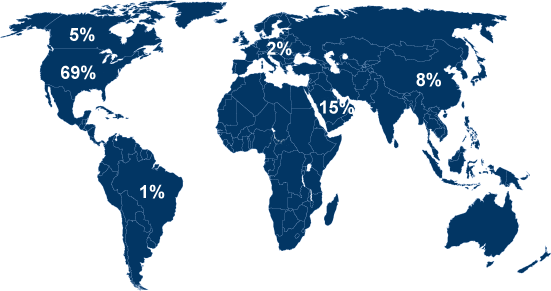 For more information about Textron Systems, contact:
Textron Systems Corporation
40 Westminster St.
Providence, RI 02903
U.S.A.
+1 (978) 657-5111
textronsystems.com
---
INDUSTRIAL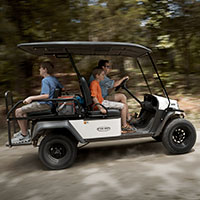 Our Industrial segment offers three main product lines: fuel systems and functional components produced by Kautex; specialized vehicles and equipment manufactured by our Textron Specialized Vehicles and Jacobsen businesses; and tools and test equipment made by our Textron Tools & Test companies.
At the end of 2015, Textron's Industrial segment had approximately 10,400 employees.
Manufacturing facilities are located in 16 countries: Belgium, Brazil, Canada, China, the Czech Republic, Germany, India, Japan, Mexico, Romania, Slovakia, South Korea, Spain, Thailand, the United Kingdom and the United States.
Industrial 2016 Revenue by Region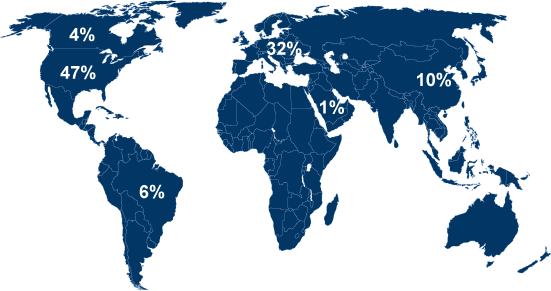 For more information about Textron's Industrial businesses, contact:
Textron Specialized Vehicles
1451 Marvin Griffin Road
Augusta, GA 30906
U.S.A.
+1 (706) 798-4311
ezgo.com | badboyoffroad.com/ | cushman.com | tugtech.com | premier-deicers.com | safeaero.com
Textron Tools & Test
4455 Boeing Drive
Rockford, IL 61109
U.S.A.
+1 (815) 397-7070
greenlee.com | greenleecommunications.com | hdelectriccompany.com | klauke.com | sherman-reilly.com
Jacobsen
11108 Quality Drive
Charlotte, NC 28273
U.S.A.
+1 (704) 504-6600
jacobsen.com
Kautex
Kautexstrasse 52
53229 Bonn
Germany
+011-49-228-4880
kautex.com