ACCELERATE YOUR DEVELOPMENT
The Textron Leadership Development Program provides college graduates the opportunity to accelerate their early career development through structured learning, on-the-job training, formalized feedback, and mentoring. The program shapes participants into future leaders of our company with challenging assignments and the ability to experience two to three roles in just two years. Our program represents our belief that moving talented people across our businesses and developing them with challenging opportunities are fundamental to personal and professional growth.
200

Leadership Development Program employees contribute to Textron's Business Units each year through rotations

75%

Of current Leadership Development Program employees were former Textron interns

8

Functional areas are available in the Leadership Development Program

220

Hours of professional development trainings are conducted each year
ON THE JOB EXPERIENCE
During participants' time in the Leadership Development Program they will rotate both geographically and by business unit within their functional area. Within our two year program, participants will gain a deeper understanding of how our businesses work to meet the need of a diverse customer base. Upon successfully completing the program, participants will be able to join one of our businesses with a wealth of experiences.
LEARNING FROM OTHERS
Each participant is assigned a Program Manager, Business Unit Manager, and mentor when they enter the Leadership Development Program. Program Managers are there to provide coaching and guidance as participants navigate through their rotations. Business Unit Managers are there to assign meaningful and challenging work and mentors are an additional resource to answer questions and offer career advice. Additionally, our Alumni remain involved in the program and serve as informal mentors.
FORMALIZED TRAININGS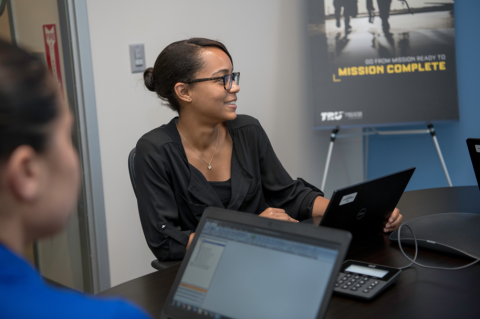 During participants' time in the Leadership Development Program they will attend in-person trainings consisting of professional development courses, functional courses and enterprise familiarization. Additionally, there are several e-learning and face-to-face courses offered through Textron University that participants' utilize to enhance job performance and develop their career potential.
Moving Forward with Finance

"I have the curiosity to continue moving to a new business, learning the business and helping the business as much as I can."

Christina
Textron Specialized Vehicles
Trelleborg, Sweden