BELL HELICOPTER
0

%
Bell Helicopter's share of Textron 2015 revenues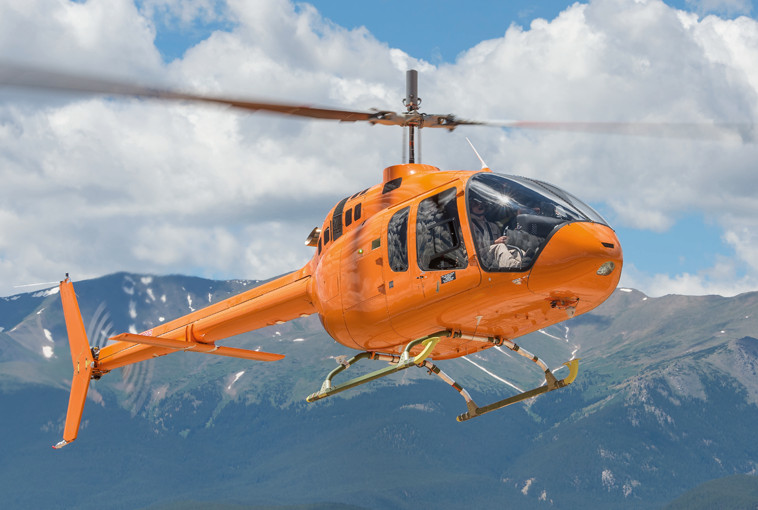 KEY DATA
(Dollars in millions)
2015
2014
2013
2012
2011
Bell Helicopter
Units sold:
U.S. Government
48
71
78
73
78
Commercial
175
178
213
188
125
Backlog
$5,224
$5,524
$6,450
$7,469
$7,346
Revenues
$3,454
$4,245
$4,511
$4,274
$3,525
Segment profit
$400
$529
$573
$639
$521
Segment profit margin
11.6%
12.5%
12.7%
15.0%
14.8%
Total assets
$2,829
$2,858
$2,899
$2,399
$2,247
Capital expenditures
$97
$152
$197
$172
$184
Depreciation and amortization
$143
$132
$116
$102
$95
Bell Helicopter is an industry-leading producer of commercial and military vertical lift aircraft and the pioneer of the revolutionary tiltrotor aircraft. Globally recognized for world-class customer service, innovation and superior quality, Bell Helicopter's global workforce serves customers flying Bell Helicopter aircraft in more than 120 countries.
Revenue by Region
Sales Breakdown
Strategic Steps Forward
Focus on developing and investing in Bell Helicopter's talent.
Expand Bell Helicopter's position as the innovation experts in the rotorcraft industry.
Reinforce the commercial product line by upgrading existing products, developing derivatives and introducing new models, including the 525 Relentless and 505 Jet Ranger X.
Upgrade existing and explore new military-focused products including the development of the next-generation tiltrotor technology (V-280) for future product offerings.
Execute on UH-1Y, AH-1Z and V-22 programs with an increased focus on the mission requirements of military customers and pursue international opportunities.
Improve the helicopter aftermarket business model through lifetime aircraft support and expanded service and training offerings.
Strengthen cost competitiveness through continued improvement in worldwide manufacturing productivity and modernizing business systems.
Fast Facts
At the end of 2015, Bell Helicopter had approximately 7,050 employees.
Major facilities are located in Fort Worth, TX; Amarillo, TX; Piney Flats, TN; Lafayette, LA; Mirabel, Canada; Prague, Czech Republic; and Singapore.
Approximately 13,000 Bell Helicopter manufactured and licensed aircraft are flying in more than 120 countries.
More than 29% of all helicopters in operation today carry the brand, including both military and commercial applications.
Worldwide service network of more than 100 Bell Helicopter authorized Customer Service Facilities and eight Bell Helicopter operated service centers, two of which are co-located with Textron Aviation: one in Singapore and one in the Czech Republic.
Received #1 ranking in all three of the aviation industry's most prominent customer surveys: Aviation International News' 2015 Product Support Survey for the 10th consecutive year; Professional Pilot 's Helicopter Product Support Survey for the 22nd consecutive year and Vertical 's Helicopter Manufacturer's Survey.
MAJOR PRODUCTS
Description
First Delivery
Seating Capacity
(including pilots)
Useful
Loads (lbs)
Cruising
Speed (kts)
Maximum
Range (nm)
Light
505 Jet Ranger X
Light single-engine, five-seat entry-level helicopter
20161
5
+1,500
+125
+360
206L-4 Long Ranger
Light single-engine, extended cabin version of the Jet Ranger
1992
7
2,119
109
325
407GXP
Light single-engine, helicopter with fully integrated glass cockpit and
performance improvement, payload increase and pilot workload reduction
2015
7
2,306
133
337
429/429WLG
Light twin-engine helicopter, best-in-class cabin volume
2009
8
2,535
150
411
Medium
412 EP/EPI
Twin-engine with the highest dispatch reliability and the lowest hourly cost
1981
15
5,100
122
357
525 Relentless
Twin-engine with best-in-class payload, range, passenger and cargo volume
with an integrated avionics and ARC Horizon flight deck system with Fly-by-
Wire Advanced Control Laws
20171
18
+7,400
+155
+500
Military
OH-58D Kiowa Warrior
Armed reconnaissance helicopter for U.S. Army
1986
2
2,200
114
268
TH-67 Trainer
Military training helicopter
1993
3
1,321
115
374
Huey II
Upgrade of U.S. Army and worldwide UH-1H model Huey
1995
15
5,060
106
246
UH-1Y
State-of-the-art fully integrated utility and combat support helicopter
2006
12
6,675
158
350
AH-1Z
State-of-the-art fully integrated weapons system attack helicopter
2006
2
6,580
160
380
Tiltrotor
Bell-Boeing V-22 Osprey
Military tiltrotor aircraft, being produced in partnership with Boeing
1999
27
25,500
266
1,100
Bell V-280 Valor
Third-generation military tiltrotor, being developed for the Army's Joint
Multi-Role (JMR) Technology Demonstrator (TD) Program
TBD
16
12,000
280
800
Estimate of first delivery
Commercial Business
The Bell 505 Jet Ranger X continues to make progress with flight test vehicles one-three charting increased flight hours and completing additional tests toward certification. More than 350 letters of intent to purchase this aircraft have been signed since its unveiling.
The Bell 525 completed its first flight test on July 1, 2015, at Bell Helicopter's Amarillo, Texas facility. The second Bell 525 flight test vehicle completed first flight on December 22, 2015. Entering 2016, there are more than 75 letters of intent to purchase the aircraft around the globe.
Bell Helicopter and long-term partner Fuji Heavy Industries were awarded a contract for 150 multipurpose helicopters to replace Japan's Ground Self-Defense Force's current fleet of UH-1J aircraft. The new UH-X aircraft, based on the Bell 412EPI, will be used for island defense and disaster relief efforts with deployment beginning in 2021.
Bell introduced the Bell 407GXP at Heli-Expo 2015 and announced the sale of 200 Bell 407GXPs configured for Helicopter Emergency Medical Services mission to Air Methods Corporation. This order marks one of the largest commercial sales in Bell Helicopter's history and one of the largest orders in the industry's history. Deliveries commenced in January 2016 with a 10-year contract.
Military Business
The first V-280 Valor tiltrotor began assembly, including assembly and painting of the first fuselage which was delivered to Bell Helicopter in October 2015. First flight of this aircraft is anticipated in 2017.
The Bell-Boeing V-22 Osprey program secured its first foreign military sale for five of a planned 17 V-22s slated for Japan's Ministry of Defense.
Bell Helicopter and the U.S. Marine Corps received the first international order on the H-1 Program for the first three of a planned 12 AH-1Z aircraft to Pakistan.
The Bell-Boeing V-22 Osprey surpassed 300,000 flight hours, making it the most in-demand aircraft in the U.S. Marine Corps and quickly becoming our nation's crisis response platform of choice.
Commercial Product Price Points
(Dollars in millions)
Singles
Bell Helicopter
Competition
Twins
Bell Helicopter
Competition
Source: Conklin & de Decker & estimated price escalations
Top
Top