TEXTRON SYSTEMS
0

%
Textron Systems' share of Textron 2015 revenues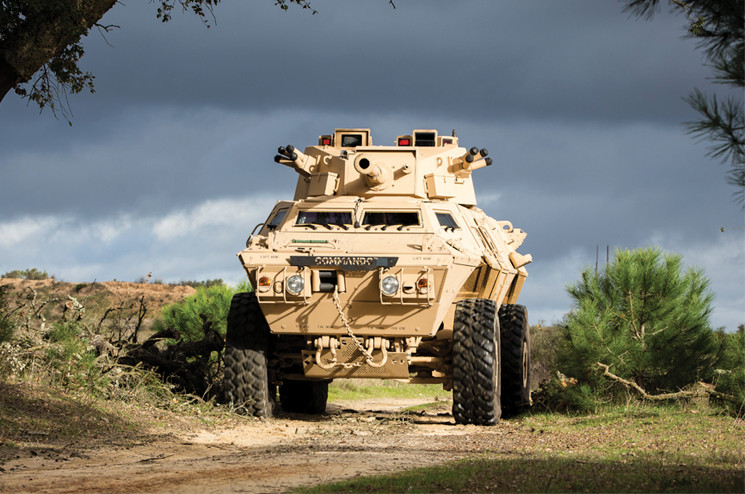 KEY DATA
(Dollars in millions)
2015
2014
2013
2012
2011
Textron Systems
Revenues
$1,520
$1,624
$1,665
$1,737
$1,872
Segment profit
$129
$150
$147
$132
$141
Segment profit margin
8.5%
9.2%
8.8%
7.6%
7.5%
Backlog
$2,328
$2,790
$2,803
$2,919
$1,337
Total assets
$2,398
$2,283
$2,106
$1,987
$1,948
Capital expenditures
$86
$65
$66
$108
$37
Depreciation and amortization
$80
$84
$89
$75
$85
Textron Systems' businesses develop and integrate products, services and support for aerospace and defense customers, as well as civil and commercial customers around the globe. Harnessing agility and a broad base of expertise, Textron Systems' innovative businesses design, manufacture, field and support comprehensive solutions that expand customer capabilities and deliver value.
Revenue by Region
Sales Breakdown
Strategic Steps Forward
Focus on developing and investing in Textron Systems' talent.
Continue to expand our global presence to address worldwide military demand with an emphasis on leading-edge, affordable and available line of networked systems.
Strengthen our position as the global supplier of unmanned aircraft systems (UAS), armored vehicles and associated training, support and services by sustaining and expanding the Shadow® UAS, Aerosonde® SUAS, COMMANDO™ vehicles and ground control technology product lines alongside our expert simulation, training and logistics offerings.
Expand our role as a provider of affordable and effective smart area attack weapons, networked ground munitions, unattended ground sensors and compliant systems that minimize risk to noncombatants, while continuing to leverage our precision weapons expertise and solutions to meet the demands of today's complex and ever-changing battlefield.
Establish TRU as the flight simulation and training provider of choice, while expanding the company's training center footprint globally to meet the world's growing demand for skilled flight crews and maintenance technicians.
Utilize our growing maritime vehicle capabilities with solutions including the Common Unmanned Surface Vehicle (CUSV™), Ship to Shore Connector and related technologies, to address ongoing and emerging domestic and international sea-based requirements.
Continue to design, build and test aviation engine products with focused efforts on alternative fuels, unmanned platforms and other new applications.
Fast Facts
At the end of 2015, Textron Systems had approximately 4,600 employees.
Manufacturing facilities are located in Tampa, FL; New Orleans, LA; Hunt Valley, MD; Wilmington, MA; Missoula, MT; McAlester, OK; Williamsport, PA; Charleston, SC; Austin, TX; Sterling, VA; Melbourne, Australia; Montreal, Canada; and Southampton, UK.
Textron Systems Unmanned Systems continued good momentum on fielding the Shadow® RQ-7B V2 Tactical Unmanned Aircraft System throughout 2015, by maintaining a production rate of 20 system upgrades per year for the U.S. Army, Marine Corps, and Special Operations Command.
Through 2015, Textron Systems has sold nearly 10,000 armored vehicles to the U.S. Army and a growing roster of international customers.
Sensor Fuzed Weapon (SFW) is a highly effective smart air-to-ground area weapon designed to defeat moving and fixed targets on land and at sea. More than 8,200 SFWs have been ordered by domestic and international customers, including the U.S. Air Force, Oman, Turkey, India, Republic of Korea and Saudi Arabia.
TRU Simulation + Training manufactures simulators and training devices for some of the world's largest aircraft OEMs, airlines, and aviation training academies. In 2015, TRU opened a Maintenance Training Academy in Wichita, KS, and a second ProFlight pilot training center in Lutz, Fl, where we train general aviation customers on a growing number of aircraft platform.
MAJOR PRODUCTS
| | |
| --- | --- |
| Product Line | Description |
| Unmanned Systems | |
| Unmanned Aircraft Systems; Unmanned Surface Systems; Control Stations; and family of remote products | Multi-mission-capable unmanned aircraft systems utilized worldwide, including the Shadow® Tactical UAS with nearly one million flight hours, the next-generation Shadow M2 Tactical UAS and Aerosonde™ Small UAS, and the CUSV™. Interoperable platform command-and-control systems for control of unmanned systems, such as the Universal Ground Control Station, and the family of remote products, including the U.S. Army program of record One System® Remote Video Terminal (OSRVT™), Remote Tactical Terminal (RT2™) and RT2®-B (Bandit) variants. |
| Support Solutions | UAS and fixed-wing aircraft and vehicle sustainment and sensor integration. UAS operations; curriculum development, technical publications and training services. Spares, repairs, provisioning, performance-based logistics and supply chain support. Field service support; and reliability, maintainability, availability, repair and supportability analysis. Employees stationed worldwide alongside the customer, supporting a wide range of defense and security equipment. |
| Marine & Land Systems | |
| COMMANDO™ family of armored vehicles | Rigorously tested and proven in the toughest environments, the family of COMMANDO™ 4x4 armored vehicles offers a range of protection, unmatched on-road and off-road mobility, survivability, lethality, versatility, reliability and sustainability for the unique multi-mission capabilities our customers require. |
| Ship to Shore Connector | The Ship to Shore Connector is the next generation of the Landing Craft Air Cushion, providing a modernized means for the U.S. Navy and Marine Corps to land on more than 80 percent of the world's shorelines for the next 30 years. The craft is designed to offer increased reliability and maintainability, as well as meet the Marine Corps' requirements of increased payload, availability, reliability and maintainability. |
| Motor Lifeboats | The 47-foot, self-righting Motor Lifeboat is a rugged, highly survivable, all-aluminum rescue boat that significantly enhances customers' ability to perform a variety of operations in heavy weather conditions. The MLB has proven itself, during more than 20 years of service, as a platform with unparalleled stability, reliability and survivability. |
| Weapon & Sensor Systems | |
| Protection Systems | Real-time distributed networked systems autonomously detect, classify, report and engage threats with man-in-the-loop control. Products include the MicroObserver™ unattended ground sensor system and the Spider networked munition system. Protection Systems continues to be an industry leader in the Unattended Ground Sensor market and effectors and is actively developing enhanced sensor/effector technology for the expanding product line. |
| Smart Weapons | Family of products includes the SFW and the next generation of precision guided weapon systems, such as G-CLAW™, Fury® and BattleHawk®, which provide customers with affordable and effective precision strike capabilities. |
| Simulation, Training and Other | |
| TRU Simulation + Training— Flight & Maintenance Training Simulators | For the global civil and defense aviation market, products range from portable desktop devices and distance-learning courseware to full-motion, high-fidelity flight simulators, such as ODYSSEY™ and FFS X™ for fixed-wing aircraft and the ODYSSEY H™ for rotorcraft. TRU products utilize subsystems, such as the REALFeel control loading system and REALCue motion controller. Products also include complete maintenance training suites for aircraft, such as the C-17, F-22 and the Shadow unmanned systems. |
| TRU Simulation + Training— Pilot and Maintenance Training | For general aviation pilots and aircraft technicians, TRU provides initial type-rating and recurrent training in FAA-approved Part 142 centers and maintenance training in a state-of-the-art Part 147 schoolhouse. TRU also provides maintenance training for U.S. and international military platforms, such as the C-17, B-1B and Shadow unmanned systems. |
| Electronic Systems | Cutting-edge technology provider with a family of test and training solutions that include automated test systems; electronic warfare/radio frequency simulation; training systems for electronic warfare applications, and precise and reliable flight line test equipment such as the Joint Service Electronic Combat Systems Tester. These solutions are used for the world's most advanced air, land, sea and space platforms, supporting advanced aircraft, marine vessels and space assets through the use of its Advanced Architecture Phase Amplitude and Time Simulator product line and robust commercial instrument line. |
| Advanced Information Solutions | Custom intelligence and mission management solutions, including the iCommand® suite, used globally in support of military operations, counterterrorism, law enforcement, emergency management and environmental assessment. Leveraging the latest commercial technologies, solutions architects and software engineers design and field tailored solutions to meet the unique operating environments of the Department of Defense, national agencies and civilian organizations. |
| Geospatial Solutions | Advanced geospatial intelligence solutions and services supporting global and national defense, security, humanitarian assistance, environmental studies, forestry and urban planning. These geospatial data management, visualization and analysis systems enable users to achieve enhanced productivity gains and geospatial awareness through management, discovery and analysis of the variety and magnitude of data at their disposal. |
| Lycoming Engines | A complete line of aviation piston engines (OEM, rebuilt and overhauled): horizontally opposed, air-cooled, four-, six- and eight-cylinder aircraft engines; the only FAA-certified aerobatic and helicopter piston engines; iE2 Integrated Electronic Engine Platform; a high powered density liquid cooled jet fuel burning diesel engine; and a single cylinder jet fuel burning spark ignited engine. Also a full line of cylinders and spare parts for the general aviation and experimental segment. |
Top
Top