UNLEASH YOUR POTENTIAL
We are honored to be one of Forbes' "World's Best Employers" for the third year in a row.
At Textron, we believe our peoples' diverse and unique experiences is what turns wild ideas into a reality.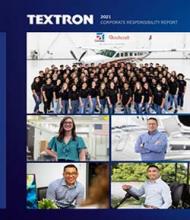 2021 CORPORATE RESPONSIBILITY REPORT
Textron's 2021 Corporate Responsibility Report provides details about our activities to minimize our company's environmental footprint, champion the health, safety, career development and engagement of our employees, steer our business on the right legal and ethical course and improve the communities in which we work and live.
OUR BUSINESS SEGMENTS
Textron is a $12.4 billion, multi-industry company employing 33,000 talented makers, thinkers, creators and doers worldwide. We make things that fly, hover, zoom and launch. Things that move people.
Protect soldiers. Power industries. We serve customers in industries spanning aerospace and defense, specialized vehicles, turf care and fuel systems. Visit the sections below to learn more about our six business segments.