A Leader on Environmental Transparency and Action
December 2020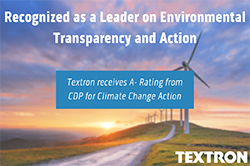 At Textron, we understand our responsibility to work toward a sustainable future for the environment. It starts with our compliance with regulatory requirements and is supported by our Textron Global EHS Policies and Standards that we follow in all countries where we operate.
As part of this responsibility, we are committed to measuring and disclosing how we're doing in our efforts to reduce the energy and natural resource intensity of our operations and contribute positively to the communities in which we operate.
That's why we are proud to be recognized by CDP (formerly Carbon Disclosure Project) at the leadership level with an A- rating for transparency in how we measure and disclose our work around issues related to the environment and natural resources. CDP is a recognized leader in environmental disclosure reporting. Their independent methodology rates companies on a scale from A to D- and is based on the comprehensiveness of disclosure, awareness of environmental risks and demonstration of best practices associated with environmental leadership, such as setting ambitious and meaningful targets.
We continuously work towards a more sustainable footprint. Working closely with teams across all of our facilities, we're championing sustainability, as well as employee health and safety, and have made it part of our daily operations.
Our hard work has paid off. Over the past 10 years, we've reduced our greenhouse gas emissions intensity by 18%, reduced our energy intensity by 14% and improved our recycling rate by over 50%.
As we continuously improve our processes, we've developed a new multi-year, enterprise-wide set of goals called Achieve 2025. This will enable us to not only take our sustainability program further, it will allow us to meet the growing expectations to our employees, customers, investors and the communities where we live and work.