FUSION's Growth: An Inside Look
June 2021
Since its inception at Bell in 2019, FUSION, an employee resource group (ERG) dedicated to growing and sustaining a diverse and inclusive work environment for LGBTQ+ community members, has grown. There are now FUSION ERGs at Textron Systems, Textron Aviation and, most recently, the Corporate office.
FUSION's impact across Textron's businesses can be felt in different ways, promoting a more inclusive workplace for LGBTQ+ employees, creating a more welcoming environment for potential employees and creating opportunities for all employees to become more involved in their local communities.
At Bell, the group's membership has grown largely as a result of allies, according to the group's co-chair Kurt Gonzales. As the group establishes itself as an integral part of Bell, Kurt said more LGBTQ+ community members are becoming active members.
Kurt said FUSION's raise the Pride flag on its Employee Center's flagpole during Pride Month in 2020 and again this year was very impactful, symbolizing the safe nature of the space for LGBTQ+ community members. Bell's ERG has also played an important role in the launch and development of FUSION at other business units.
For Textron Systems' Abbey Tuttle, it was conversations about equality and representation with a colleague that led them to believe starting an LGBTQ+ ERG was necessary.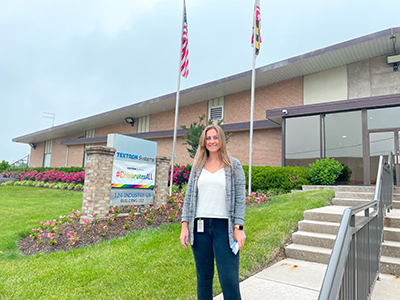 "We thought that Systems could benefit from having an LGBTQ+ ERG to focus on a more inclusive workplace for LGBTQ+ employees and our allies," Abbey said. She also expressed that after bringing the proposal to HR and having many leaders and employees show their support for the group, they had the numbers they needed to grow FUSION at Textron Systems.
Since its formation, membership has grown by 84% with members in seven states and three countries. While the statistics are impressive, FUSION is having a more intangible impact, noted Ted Strouboulis.
"I felt that there were no role models for me to look up to when I started my career at Textron, specifically figures paving the way for the LGBTQ+ community," Ted said. "So, I decided to step up to the plate to be that figure."
A few months after Textron Systems' FUSION group was created, Textron Aviation followed suit. As discussions around diversity, inclusion and belonging picked up in 2020, Natalie Tos-Brightup felt it was the perfect time to get FUSION started there.
Her efforts came to fruition in October 2020 and, today, its FUSION ERG has over 40 members. Natalie said the majority are allies, but LGBTQ+ members are intermixed. While their meetings have been virtual, Natalie said the group is eager to get underway with new initiatives as they move back into the office.
"Our goals for 2021 are to have an active PRIDE month, develop leadership and employee training, and connect with the larger community," she said.
With the ERG now established at multiple locations across the country, the different business units are taking the opportunity presented by Pride month to host joint events. In fact, the groups have been in talks since late 2020 in preparation for events this June.
Earlier this month, the FUSION groups hosted Major General Tammy Smith – the first openly gay US general – for a virtual talk open to all employees. She spoke on inclusivity, the importance of allies and being yourself no matter where you go or work.
Collaboration between the FUSION groups is just the beginning.
"We have been working on Pride plans for a few months to make sure our events are reaching beyond our three business units. We plan to continue these collaborative efforts and hope that FUSION continues to grow to other TXT locations," Abbey said
And FUSION is growing, with the latest group being established at the Corporate office.
Perhaps most notable are the actions FUSION groups are taking to make an impact outside of their business units and the enterprise. Kurt said that Bell's FUSION group has "partnered directly and indirectly with our local and national LGBTQ+ communities to provide support with food, scholarships and other resources to succeed."
At Textron Systems, FUSION hosted a clothing driving with the AIDS Resource Center in Williamsport, Pennsylvania. They were able to donate over 750 pounds of clothing to support the organization.
The story of these groups' growth paints one clear picture: ERGs can have a huge impact on their communities when they help each other.
"I would encourage any ERG to reach out to either their DIB leader or HR representative to find the right connections with other BUs," she said. "As companies collaborating to facilitate our employees in being human, we provide a broader base for connection and growth and a greater opportunity for success."