Textron's New Partnership with Girls Who Code
June 2021
Textron is proud to announce its new partnership with Girls Who Code. This international nonprofit organization aims to close the gender gap in technology and build the largest pipeline of future female computer science professionals. Since its launch in 2012, Girls Who Code has reached over 500 million people globally and 300,000 girls through its work and in-person programming. Diversity, equity, and inclusion is essential to the mission of Girls Who Code.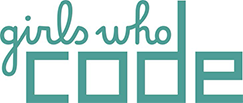 They focus their work on gender diversity and those who are underrepresented in computer science and related fields. The nonprofit organization has clubs all over the country in elementary schools and high schools, as well as college programs for Girls Who Code alumni. College-aged alumni of Girls Who Code are declaring majors in computer science and related fields at 15 times the U.S. average.
With this partnership, Textron supports the goal to educate and equip young women with the educational skills and resources to succeed in computer science. Employees will have opportunities to speak at local chapters and engage with members about careers in technology. Interns can create college loops at their schools for women interested in technology. It also provides Textron the opportunity to seek future talent and continue to diversify the workforce.