Investing in the Future: Textron Works with Boys & Girls Clubs of Providence
July 2020
Transparency, integrity, resilience and family. These are what Nicole Dufresne, chief executive officer (CEO) of the Boys and Girls Clubs of Providence, considers to be the core values of the Clubs and the local communities they serve in Providence. Textron also promotes similar values, which is why Textron has been proud to work and partner with the Boys and Girls Clubs of Providence for nearly ten years.
Nicole has been part of the Boys and Girls Clubs of Providence community for 30 years. She has done just about every job there is to do at the Club, as it is known. She has stayed because of her love for the place, the people and the work they do for the youth of the Providence community. In 2009, Nicole was named CEO and shortly after her transition into this role, Textron began its partnership.
Textron has funded many different events and programs over the years and its employees have served as volunteers. The Youth Employment Program (YEP) is a great example of the partnership between these two organizations. This program involves children from 6 to 18 years of age and gives them an opportunity to develop their skills for future jobs and careers. Volunteers help prepare mock interviews and may set up informational sessions about rights and responsibilities an employer might expect. Textron has even hosted boys and girls at its Providence office.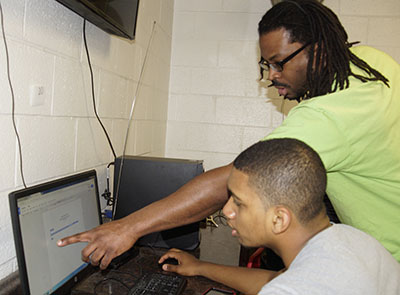 Along with employee volunteers, Textron also gives five children the opportunity to visit the National Flight Academy in Pensacola, FL. These participants received a unique opportunity to not only experience life in the military, but also develop interest in STEM programs and research.
This year, the Club received a $25,000 grant from Textron that it won as part of Textron's annual Charity Challenge. This grant, Nicole said, "could not have come at a better time". The money was not only a great surprise, but also much needed, as the COVID-19 pandemic dried up many other funding sources. According to Nicole, the money allowed them to "concentrate on where [they] were going and not get stuck in the present."
Textron also participates in other annual Club programs, including a coat drive and the Youth of the Year program. These young men and women, according to the Boys and Girls Clubs of Providence website, "exemplif[y] outstanding commitment to leadership, service, and academic excellence and dedication to living a healthy lifestyle." Lyamaris Gomes, Youth of the Year in 2019, is now at Bentley University, and Latifat Odetunde, Youth of the Year in 2018, currently attends Boston College, respectively.
Lyamaris and Latifat are just two of the many members of Boys and Girls Clubs who have gone on to college, the military or post-graduate work. One young man is scheduled to begin medical school this Fall, she adds.
Nicole recognizes the significant impact Textron's charity work makes on the lives of the children who come to the Club centers. "When a company like Textron that has a worldwide presence get involved in the community, it helps make a change. Textron is directly benefitting future employees when they invest in workforce development programs," she said.
The Boys and Girls Clubs of Providence consists of eight different locations spanning across the city, serving over 4,000 children in a year. For these kids, the Boys and Girls Clubs provide an outlet that allows them to grow and learn in an environment where these types of opportunities may not have been previously available. "A lot of kids say, 'You saved my life,' or in other words, they were given a purpose" Nicole said.
Textron is proud to be able to contribute to the Boys and Girls Clubs of Providence throughout the years and looks forward to its continuing partnership with them. Both Textron and the Boys and Girls Clubs are optimistic for the future.