Paving Unique Paths: Corporate Aviation's Sarah O'Donoghue and Kerri Kottmann
July 2021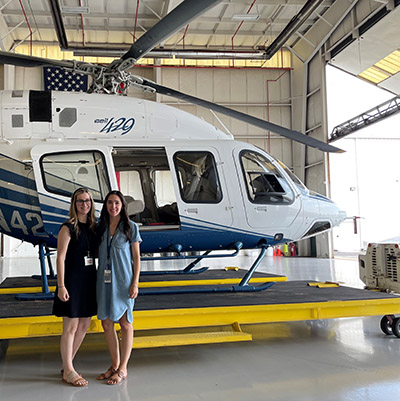 For many of us, the job we end up in is rarely a role we ever thought we'd have as a child. As children, we most likely didn't even know our current jobs existed. Sarah O'Donoghue and Kerri Kottmann, however, aren't like most of us. Both dreamed of being aviation professionals from a young age, and their aspirations have led them down paths that overlap in more ways than one.
Kerri and Sarah are both currently working in Textron's Corporate Aviation division. They both graduated from Bridgewater State University – specifically from the school's renowned Aviation Sciences program. Both were interns at Textron's Corporate hangar and they've each been set on entering the aviation industry since they were young.

Early Interests in Aviation
For Kerri, the idea of a career in aviation was always a possibility. Her father was an airframe and powerplant (A&P) mechanic, meaning he was constantly working on and around aircraft. Growing up in the aviation industry first had Kerri thinking she wanted to follow in her father's footsteps; that vision soon morphed, though.
"I actually originally wanted to be an A&P [mechanic]. But then slowly as I got older, I started leaning towards wanting to fly," Kerri recalls. "My dad got me a discovery flight when I was 16, and ever since then I've been hooked."
As she neared the start of her college career, Kerri said it was important for her to find a school that allowed her to pursue aviation – specifically securing her pilot's license – as well as management.
Bridgewater State University, located in Bridgewater, MA, checked all her boxes. BSU's aviation sciences program would assist Kerri in learning how to fly while simultaneously giving her the more business-focused education she wanted as well.
Sarah notes that she chose BSU for a similar reason – though her path into the aviation industry differs considerably from Kerri.
"I have family overseas, so we were always traveling. I used to love seeing all the pilots and the flight attendants, so I kind of became obsessed in that way," Sarah explained. "I really wanted to be a flight attendant, but the personal importance of a four-year degree was really lingering in my mind."
For Sarah, BSU's dual-concentration capability within the aviation sciences department gave her the comfort of having a versatile four-year degree while paving the way for her to enter the industry she'd always aspired to join.
From Bridgewater to Textron
It was during their years at BSU that both Sarah and Kerri were introduced to Textron. However, just like different paths led to both women attending BSU, the internships Kerri and Sarah secured differed from one another.
The summer before her senior year, Sarah applied for and landed Textron's first internship ever offered at the hangar. She said the internship gave her something college classes are usually unable to: hands-on experience.
"It's one thing to read a book and learn what a fixed base operation is like, which is where we get fuel and all that good stuff on the road," Sarah said. "It's another thing to coordinate that, so I think that was really helpful."
While Kerri's internship came about in a different way, and consisted of different responsibilities, she echoed Sarah's sentiment of gaining the real-time, hands-on experience she needed to feel equipped for success in the industry.
Kerri noted that she was able to get experience pre-flighting, programming different systems and more after her supervisors began picking up on her interests. As she continued her internship, she was able to take on more responsibilities and gain even more experience in all types of work.
Finding Full-Time Fits
It was this internship that led directly into Kerri being employed by Textron. She first came on as a contractor, then shifted to helping with administrative work before accepting the full-time pilot position of Second in Command a little over a year after being hired.
Sarah made her way back to Textron as a full-time Flight Operations Specialist – her role today – two years after graduating from BSU. She noted that coming back to Textron felt right, especially after enjoying her internship just a couple years prior. Both she and Kerri hope to give future interns the same type of mentoring they received.
"They mentor us really well, and I think that's great," Kerri said. "I'm not as experienced as all the other pilots, so anytime where I can learn, or they see something that they haven't seen in a long time, they'll walk me through it. It's just a really good relationship that we have with all the guys here."
While the number of women in the aviation industry is steadily increasing, the field is still heavily dominated by men. For example, women comprise only six percent of the total population of pilots in the United States. Both Sarah and Kerri, though, remarked that they have only ever felt accepted and respected within their work environment.
Making a Difference in their Department
Even though they may not see themselves as trailblazers, both Kerri and Sarah have a lot to show for. From their unique paths within Textron, to their presence in a traditionally male industry, their accomplishments are something for aspiring aviation professionals to look up to.
David Nigri, director of Aviation, can attest to that fact. In reference to Sarah, David said she is "a very talented individual.
"She is extremely proactive. She understands processes extremely well and is able to look and find a better way to do things," David said. "She started as an intern and I've seen her truly grow into the Flight Operations Specialist she is today. Now I look to Sarah as one of our leaders within the department."
He had similar sentiments to share regarding Kerri and her time in the department as well. He noted that she is always eager to take on new tasks and responsibilities, remembering specifically how eager she was to run a previously instated employee flight program.
"This program had to be managed and I reached out to Kerri. She said, 'Yeah, not a problem, David. I will manage this program for you,'" he recalled. "She worked extremely hard across multiple business units. She kept meticulous spreadsheets on the fixed costs of the program and the operating costs. She just did a great job."
Having reflected on her experiences in aviation so far, to those aspiring professionals who might be looking for advice, Kerri advises to "be a good person at heart."
"I think that will carry you way further in life than any of your qualifications," Kerri said. "You can teach anybody to do just about anything, but you can't change someone's personality. It takes you way further, especially in a small department like ours."