Local Success: Jose Rodriguez and his E 360 Journey
June 2021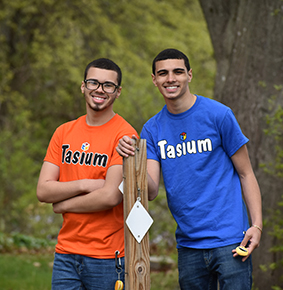 Picture this: you're standing in front of a group of some of the world's most successful entrepreneurs. You have seven minutes to pitch your very own business to them. You must explain your business, how you plan to market your product, why you think it's valuable and, most importantly, why you deserve their funding.
Now, imagine doing that while being 18 years old. This is exactly the feat that Jose Rodriguez, a 2021 graduate of The Met School in Providence, RI accomplished. Jose was the winner of this year's NFTE competition, where he beat out 20,000 other contestants from around the world and earned $12,000 to patent and run his company, Tasium.
Tasium is a clothing company tailored toward those on the Autism spectrum that was inspired by his brother. The t-shirts – designed by Jose – have fidget toys fused to the shirts, solving the common problem of lost toys. Jose began working on the company as he entered the E 360, year-long entrepreneurship program at The MET School.
Textron has been involved with both The Met School and the E 360 program for several years now, providing funding through its Textron Charitable Trust and through volunteers. Karen Warfield, Corporate's community affairs manager, serves on the judging panel for the program's annual business plan competition, which determines which students will advance to the NFTE competition.
The Inspiration for Tasium
Jose had his eye on the E 360 program ever since his freshman year of high school, but he never knew exactly what business venture he wanted to undertake upon enrollment. After telling his mentor, Jodie Woodruff, that he wanted to start a clothing company, Jodie encouraged him to think about what could help his company stand out from big-name competitors.
"I went all the way back to square one, to the drawing board. Throughout my tenure at The Met, I always had Autism-related projects. My little brother, his name is Joel, he has Autism. My entire life, I always tried to make his day to day life easier," Jose explained. "We did everything together growing up and I thought about what Jodie said with having a twist on a clothing brand and was like, man, why don't I do something Autism related?"
Jose said he didn't want his clothing brand to simply raise awareness or funds for Autism. He knew fidget toys were a highly effective tool in helping those on the spectrum reduce stress and anxiety and, from his brother's experience, they're often easy to lose.
"I remember one day when I was thinking about how I could connect Autism to a plan for a clothing company, he came bursting into my room searching for his favorite fidget toy," Jose recalled. "That's when it kind of hit me like, oh, I can make the fidget toy infused into the clothing."
With the perfect idea in mind, Jose was ready to get Tasium – which is an anagram of the word 'Autism' - off the ground. Here, The Met's E 360 program came into play.
E 360's Role in Jose's Story
E 360 is a year-long program that essentially provides students with a crash course in what it takes to succeed as an entrepreneur. Jose's mentor serves as the program director for E 360, helping students conceptualize their business, gain the skills needed to launch it, and ultimately guide them toward their 'fish tank' competition, along with the help of other teachers.
Jose notes that the program was not only necessary in helping him map out the logistics of his business plan, but also in shifting his mindset. Jodie commented on the immense growth she has seen in Jose, too.
"In the beginning we would really coach him. I mean, we would give him the right words. We worked backwards and gave him the answers," Jodie said. "And now, just a couple weeks ago, he interviewed with People Magazine, and I wasn't involved at all. So, I see how he takes the cues. He picks up on what we're saying and then he uses it in his dialogue as he moves forward."
Jose credits much of that growth, especially in the realm of pitching his business proposal, to practice. He put in hours of work with his teachers to refine his presentation for competitions, doing his best to emphasize Tasium's strengths and its genuine origin.
"There was a lot of preparation that went into this. Every day, I would go to the school during the pandemic with my teachers and we would just constantly work on my brand and how to word it the best way," Jose said. "You know, I really just want people to understand that this is from the heart. This business is straight from the heart."
A Bright Future
Months out from his win at NFTE, Jose is still incredibly eager about Tasium and its future. He has hopes of one day sponsoring the Special Olympics and, in the more immediate future, expanding Tasium's product line beyond t-shirts.
With plans to attend Babson College on a full-ride scholarship in the fall, Jose is looking forward to maintaining momentum in expanding his business. Even after graduating high school and solidifying plans for further education, he credits much of his success to guidance from The Met School.
"Honestly, before E 360 I was living aimlessly. I didn't really know what I wanted to do, and college was the last thing on my mind," Jose explained. "And now, two years later, to be able to say that I received a full-ride? It's giving me chills just talking about it."