Textron Aviation Supports Giving the Basics
August 2020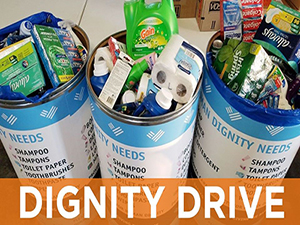 For many people, being able to afford and have access to essentials, such as shampoo and toothpaste, is not an issue. For others, however, it is a constant struggle. To help combat this problem, Textron Aviation works with Giving the Basics in Wichita, KS to provide those in the community with everyday essential products many take for granted every day.
Based in Kansas City, Kansas, Giving the Basics is a nonprofit organization that provides basic hygiene and cleaning products to those who cannot afford or easily access them. When founder Teresa Hamilton found out hygiene products were not covered by government assistance, she began to collect items like toilet paper, deodorant and more in her garage to distribute to those she knew needed them most. Teresa later turned her idea into a nonprofit organization, and since Giving the Basic's founding in 2011, the group has been able to provide products for hundreds of thousands of people in Kansas.
In 2019, Giving the Basics expanded to Wichita under the direction of Erin Kalkbrenner and Megan Kice. Since its opening one year ago, the branch has been able to help 111 schools and 25 different organizations like the Salvation Army and domestic violence shelters.
Textron Aviation is among one of the many large businesses that assists Giving the Basics in their fundraising efforts in Wichita. Last year, Textron Aviation hosted a Dignity Drive, in which the company's branch in Wichita collected nearly 11,000 hygiene products over the course of one week. As part of this event, over 40 interns also volunteered for their time, completing tasks like sorting, boxing, and preparing the thousands of products they helped collect.
Rachel Douglass, community and employee engagement manager at Textron Aviation, said that partnering with and assisting Giving the Basics in their collection efforts was a no brainer as the organization perfectly aligns with the company's corporate giving strategy.
"Textron Aviation's corporate giving strategy is focused around three pillars: education, quality of life and human services," Rachel said. Giving the Basics fulfills the third pillar by providing hygienic products not covered by government assistance programs to those who cannot afford them, allowing people to improve their health and gain more confidence in public situations.
More than anything else, Erin hopes that Giving the Basics will make people more aware of the fact that there are thousands of people across the country who need these products but cannot afford them. "No matter who they are or their status, people should have these products available to them. Everyone should be able to wash themselves or brush their teeth. This is not just a Kansas specific issue," Erin said.
Textron Aviation is proud of the partnership with Giving the Basics and plans on continuing to help and assist the organization in whatever way they can.