Textron's Treasure Chest of Stories
April 2020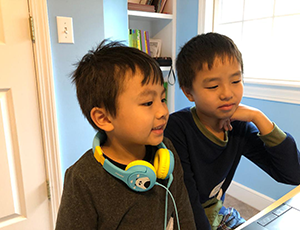 Now more than ever, it's important to stay connected with one another as we work from our homes. Working from home can be quite an adjustment, and for most of us the reason we love our job is bigger than the work itself. So, in today's reality, how do we fulfill the need to sustain our company culture and engage employees?
At the beginning of April, Jackie Sweeney, Director or Leadership and Organizational Development, got creative with the help of her team and began a new series that they called Textron's Treasure Chest of Stories. Every Friday, employees from our corporate office in Providence, Rhode Island, and their families are invited to take a short break from their daily routines and connect with colleagues through a virtual story time lead by members of our Talent Development team.
The event kicked-off on April 3rd and featured Jackie herself reading the classic children's book, Where the Wild Things Are by Maurice Sendak, her son's favorite as a child. Since then, stories such as Jake Stays Awake by Michael Wright and Alexander and the Terrible, Horrible, No Good, Very Bad Day by Judith Viorst have been read by Jess Bickoff, Textron University Lead, and Gina Venuti, LDP Program Manager.
"The Treasure Chest of Stories initiative was extremely rewarding to be a part of. I loved having the opportunity to stay connected with coworkers and help families take a break from their daily routines," says Gina. "It was so much fun hearing the children engage with the story I was reading; their excitement truly brightened my day! In this time of uncertainty, it is comforting to be a part of such a wonderful community at Textron."
Heartwarming, engaging and unique, Textron's Treasure Chest of Stories have been the perfect dose of positivity.