Fulfilling Our Commitments to Our Customers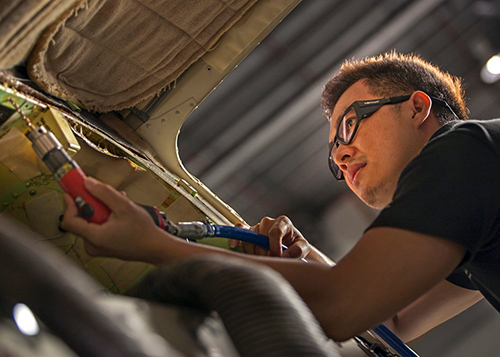 Fulfilling our commitments to our customers is critical, especially given the essential nature of many of our products and programs. Although it challenged our businesses to be adaptable, resourceful and creative, as expected, our people have risen to the occasion.
Maintaining Production
Early in the pandemic, some of our manufacturing facilities temporarily halted production but most reopened by late spring while strictly following CDC and WHO safety guidelines.
Our defense businesses have remained operating since the pandemic began and have been able to maintain a high level of production despite the challenges of adjusting operating hours, staggering shifts, enhancing workplace safety protocols and reconfiguring manufacturing lines where necessary.
To ensure supply chain stability, Bell and Textron Aviation were able to help some of our suppliers to be categorized as critical infrastructure due to their role in supplying critical programs.
Our defense businesses continue to fulfill contracts with the U.S. government and have seen strong demand for our products despite the economic uncertainty affecting the broader economy.
Servicing our Customers
To keep our Bell and Textron Aviation customers flying, our service centers have remained open during the pandemic to provide aftermarket services. Our service centers have implemented safety protocols which limit employee-to-customer contact while maintaining world-class customer service.
Our businesses continue to work with shipping carriers to ensure parts are being shipped domestically and internationally with minimum disruption or delays to customers.
In cases where physical customer visits are not possible due to local or state safety mandates, our businesses have leveraged technology to enable virtual meetings and product or manufacturing demonstrations.
In addition, our finance business has worked with customers who have been financially impacted by the pandemic to provide temporary payment relief through loan modifications.
Achieving Milestones
Despite the challenges presented by the pandemic, our businesses were able to achieve some important recent milestones such as: