GROWING IN THE GLOBAL MARKETPLACE
With a presence in more than 25 countries and employing approximately 34,000 people, Textron is strategically positioned to provide integrated product solutions and services to customers around the globe.
We recognize that our growth depends on having a global mindset, with the acumen to recognize new opportunities: the opportunity to be on the ground in emerging, profitable markets; the opportunity to work with an indigenous and skilled workforce; the opportunity to better serve our global customers; and the opportunity to leverage the cost benefits of being both an efficient global supplier for our customers and working with a competitive supply base.
We are expanding our international operations, growing our sales and distribution capabilities in Central and Eastern Europe as well as in India, China, the Middle East and Central and South America, where long-term growth prospects are strong. Offices and manufacturing plants have been established in the most strategic areas, bringing us closer to customers in the markets we serve.

CUSTOMERS WORLDWIDE TRUST OUR POWERFUL BRANDS
TEXTRON AVIATION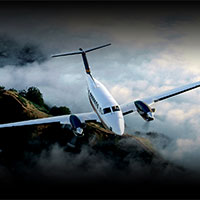 Textron Aviation is a leader in general aviation. Textron Aviation manufactures, sells and services Beechcraft and Cessna aircraft, and services the Hawker brand of business jets. The segment has two principal product lines: aircraft and aftermarket parts and services. Aircraft includes sales of business jets, turboprop aircraft, military trainer and defense aircraft and piston engine aircraft. Aftermarket parts and services includes commercial parts sales and maintenance, inspection and repair services. Textron Aviation markets its products worldwide through its own sales force, as well as through a network of authorized independent sales representatives.
Textron Aviation's total revenues in 2022 were $5.1 billon (Aircraft: 67% | Aftermarket parts and services: 33%).
Textron Aviation's share of Textron 2022 revenues was 39.4%.
The family of jets currently offered by Textron Aviation includes the Citation M2 Gen2, Citation CJ3+, Citation CJ4 Gen2, Citation XLS Gen2, Citation Latitude and the Citation Longitude. Textron Aviation's turboprop aircraft include the Beechcraft King Air 260, King Air 360ER and King Air 360, and the Cessna Caravan, Grand Caravan EX and SkyCourier, which was certified in March 2022.
In addition, Textron Aviation's military trainer and defense aircraft include the T-6 trainer, which has been used to train pilots from more than 20 countries, and the AT-6 light attack military aircraft, which achieved military type certification from the U.S. Air Force in July 2022, enabling international sales of the aircraft. Textron Aviation also offers piston engine aircraft including the Beechcraft Baron G58 and Bonanza G36, and the Cessna Skyhawk, Skylane, Turbo Skylane, and Turbo Stationair HD.
In support of its family of aircraft, Textron Aviation operates a global network of more than 20 service centers, two of which are co-located with Bell, along with more than 300 authorized independent service centers located throughout the world. Textron Aviation-owned service centers provide customers with 24-hour service and maintenance. Textron Aviation also provides its customers with around-the-clock parts support and offers a mobile support program with over 70 mobile service units.
Able Aerospace Services, Inc., a subsidiary of Textron Aviation, provides component and maintenance, repair and overhaul services in support of commercial and military fixed- and rotor-wing aircraft.
For more information about Textron Aviation, contact:
Textron Aviation
One Cessna Blvd.
Wichita, KS 67215, U.S.A.
+1 (316) 517-6000
www.txtav.com
---
BELL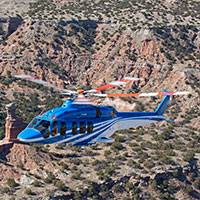 Bell is a leading supplier of helicopters, tiltrotor aircraft and related spare parts and services. Bell supplies military helicopters and tiltrotors to the U.S. Government and
non-U.S. military customers and supplies commercially certified helicopters to corporate, private, law enforcement, utility, public safety, emergency medical and other helicopter
operators. Bell provides support and service for an installed base of approximately 13,000 helicopters.
Bell's total revenues for 2022 were $3.1 billion (U.S. Government: 56.3% | Commercial: 43.7%).
Bell's share of Textron 2022 revenues was 24%.
Bell supplies advanced military helicopters and provides parts and support services to the U.S. Government and to military customers outside the United States. Bell's primary U.S. Government programs are for the production and support of V-22 tiltrotor aircraft, primarily for the U.S. Department of Defense, and H-1 helicopters for the U.S. Marine Corps. Bell is one of the leading suppliers of helicopters to the U.S. Government and, in association with The Boeing Company, the only supplier of
military tiltrotor aircraft. Tiltrotor aircraft are designed to provide the benefits of both helicopters and fixed-wing aircraft. The H-1 helicopter program includes autility model, the UH-1Y, and an advanced attack model, the AH-1Z, which have 84% parts commonality between them. Under the U.S. Government-sponsored foreign military sales program, Bell offers its V-22 tiltrotor aircraft and H-1 helicopter products for sale to other countries.
Through its commercial business, Bell is aleading supplier of commercially certified helicopters and support to corporate, private, law enforcement, utility, public safety and emergency medical helicopter operators, and U.S. and foreign governments. Bell produces a variety of commercial aircraft types, including light single- and twin-engine helicopters and medium twin-engine helicopters, along with other related products. The commercial helicopters currently offered by Bell include the 429, 407GXi,
412EPX, 412EPI, 505 Jet Ranger X and Huey II.
Bell is developing the V-280 Valor, a next generation vertical lift aircraft for the Future Long Range Assault Aircraft (FLRAA) program, which is part of the U.S. Army's Future Vertical Lift (FVL) initiative. The V-280 achieved its first flight in December 2017, conducted over 200 hours of flight testing, and has demonstrated all key performance objectives established by the U.S. Army, including flying in excess of 300 knots airspeed.
Bell is developing a new rotorcraft, the Bell 360 Invictus, for the U.S. Army's Future Attack Reconnaissance Aircraft (FARA) Competitive Prototype Program, which is also part of the U.S. government's FVL initiative.
Bell's first super medium commercial helicopter, the 525 Relentless, is currently in the certification process with the Federal
Aviation Administration (FAA).
For more information about Bell, contact:
Bell
3255 Bell Flight Blvd.
Fort Worth, TX 76118, U.S.A.
+1 (817) 280-2011
www.bellflight.com
---
TEXTRON SYSTEMS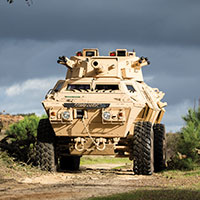 Textron Systems' businesses develop and integrate products and services for U.S. and non-U.S. military, government and commercial customers to support defense, aerospace
and other missions. Product and service offerings include unmanned aircraft systems, electronic systems and solutions, advanced marine craft, piston aircraft engines,
live military air training, weapons and related components, and armored and specialty vehicles.
Textron Systems' total revenues for 2022 were $1.2 billion.
Textron Systems' share of Textron 2022 revenues was 9.1%.
Notable products developed and produced by the Textron Systems segment include the Shadow, the U.S. Army's premier tactical unmanned aircraft system; the Aerosonde Small Unmanned Aircraft System, a multi-mission capable unmanned aircraft system for commercialand military operations; the U.S. Navy's next generation Landing Craft Air Cushion, developed as part of the Ship-to-Shore Connector program; and piston aircraft engines under the Lycoming brand.
Notable service offerings of the Textron Systems segment include fee-for-service programs using unmanned aircraft systems and live military air-to-air and air-to-ship training and support services for U.S. Navy, Marine and Air Force personnel provided by Airborne Tactical Advantage Company.
For more information about Textron Systems, contact:
Textron Systems Corporation
300 Clubhouse Road
Hunt Valley, MD 21030-0126, USA
+1-800-655-2616
textronsystems.com
---
INDUSTRIAL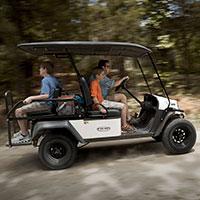 Our Industrial segment designs and manufactures a variety of products within the Fuel Systems and Functional Components and Specialized Vehicles product lines.
The Industrial segment's total revenues for 2022 were $3.5 billion.
Industrial's share of Textron 2022 revenues was 27%.
Our Fuel Systems and Functional Components product line is produced by our Kautex business unit which is headquartered in Bonn, Germany. Kautex is a leader in designing and manufacturing plastic fuel systems for automobiles and light trucks, including blow-molded solutions for conventional plastic fuel tanks and pressurized plastic fuel tanks for hybrid vehicle applications. Kautex also develops and manufactures clear-vision systems for automotive safety and advanced driver assistance systems (ADAS).
Our Specialized Vehicles product line includes products sold by the Textron Specialized Vehicles businesses under our E-Z-GO, Arctic Cat, TUG Technologies, Douglas Equipment, Premier, Safeaero, Ransomes, Jacobsen and Cushman brands. These businesses design, manufacture and sell golf cars, off-road utility vehicles, recreational side-by-side and all-terrain vehicles, snowmobiles, light transportation vehicles, aviation ground support equipment and professional turf-maintenance equipment, as well as specialized turf-care vehicles. A significant portion of the products sold by these businesses are powered with lithium batteries, greatly reducing the products' impact on the environment.
For more information about Textron's Industrial businesses, contact:
Textron Specialized Vehicles
1451 Marvin Griffin Road
Augusta, GA 30906, U.S.A.
+1 (706) 798-4311
www.arcticcat.com | www.cushman.com | www.ezgo.com | www.jacobsen.com | www.textrongse.com
Kautex
Kautexstrasse 52
53229 Bonn, Germany
+011-49-228-4880
kautex.com
---
TEXTRON eAVIATION
Textron eAviation was formed in the second quarter of 2022 following our acquisition of Pipistrel, a manufacturer of electrically powered aircraft, on April 15, 2022. Pipistrel offers a family of light aircraft and gliders with both electric and combustion engines. Pipistrel's Velis Electro is the world's first, and currently only, electric aircraft to receive full type certification from the European Union Aviation Safety Agency and, in 2022, it earned UK Civil Aviation Authority type certification. The Textron eAviation segment includes Pipistrel along with other research and development initiatives related to sustainable aviation solutions.
www.e-aviation.com | www.pipistrel-aircraft.com
---
FINANCE
Our Finance segment, or the Finance group, is a commercial finance business that consists of Textron Financial Corporation (TFC) and its consolidated subsidiaries. The Finance segment provides financing primarily to purchasers of new and pre-owned Textron Aviation aircraft and Bell helicopters. A substantial number of the originations in our finance receivable portfolio are cross-border transactions for aircraft sold outside of the U.S. In 2022 and 2021, our Finance group paid our Manufacturing group $92 million and $100 million, respectively, related to the sale of Textron-manufactured products to third parties that were financed by the Finance group.