Textron Joins REBA
April 2021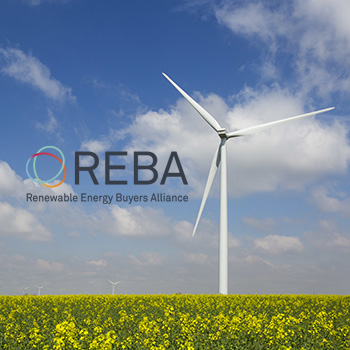 Textron Inc. has joined the Renewable Energy Buyers Alliance (REBA) in an effort to help meet our 20% greenhouse gas emissions reduction by the year 2025.
REBA is an alliance of large, clean energy buyers, energy providers and service providers unlocking the marketplace for all non-residential energy buyers to lead a rapid transition to a cleaner, prosperous, zero-carbon energy future.
"A large portion of our greenhouse gas emissions are associated with the electricity we purchase and supporting the transition to renewable energy is a key part of our Achieve 2025 strategy," says David McCabe, Textron's executive director of Environment, Health & Safety. "By joining REBA, we aim to be part of the solution."
In January, aircraft manufacturing activities at our Textron Aviation facilities began using 100% renewable electricity generated from the recently completed Soldier Creek wind farm in Nemaha County, Kansas. We intend to leverage the extensive resources now available through the REBA organization to identify and participate in additional renewable energy opportunities for our other diverse manufacturing facilities.