Helping Our Communities During the COVID-19 Pandemic
We have been proud to support our communities where we live and work by donating personal protective equipment (PPE) and using some of our manufacturing facilities to produce supplies that assist front-line workers who are caring for COVID-19 patients.
Bell
At Bell, the Asian Corporation of Employees (ACE) Resource Group held a fundraiser which allowed them to buy 1,650 Kg (3,638 Lbs.) of rice and 165 boxes of instant noodles, which was distributed to 165 families. Your single donation helped families in need during the COVID pandemic.
Kautex
The Kautex facility in Barcelona recently donated 1,150 masks to the Hospital of Mollet del Vallès; this facility also donated more than 200 protective face masks, produced with the plant's 3D printer, to local police, pharmacies and more.

Kautex's Detroit facility donated N95 respirators to two local hospitals, including 600 FFP2 disposable respirators and 12 goggles to the Detroit VAMC and the same amount to Detroit's Henry Ford Hospital.
Textron Aviation
Textron Aviation donated 7,500 N95 face masks as well as PPE to Wichita State University, which coordinated distribution with state emergency officials. Additionally, the business opened its sewing shops used for manufacturing product seating to produce masks and other PPE.
Textron Specialized Vehicles (TSV)
N95 masks are used in the operation of the paint system in TSV's plant in Augusta, Georgia. More than 4,000 masks were donated to local hospitals, including University Health Care System and Doctors Hospital of Augusta.

TSV had planned to participate in the CSRA Heart Walk in Augusta, Georgia in March, but the event was canceled. However, the business still managed to raise over $8,000 to support the American Heart Association – a new record for TSV.

TSV in Thief River Falls, Minnesota provided PPE to local first responders to help protect those on the frontlines of the COVID-19 outbreak. The team also used its sewing facilities to produce cloth masks and other PPE for healthcare workers in the region.

TSV donated E-Z-GO customized golf cars for "Capital One's The Match: Champions for Charity", a televised golf event on May 24. Tiger Woods, Phil Mickelson, Peyton Manning and Tom Brady each rode in a tailored E-Z-GO Freedom® RXV® ELiTE™ car while playing the 18-hole course at Medalist Golf Club. Woods' and Mickelson's cars were auctioned during the All In Challenge with all proceeds going to the relief fund.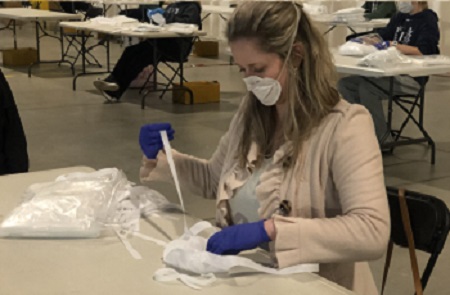 Textron Systems
Textron Systems has donated over 1,000 masks, 80 arm garters, 200 bottles of sanitizer and roughly 340 gallons of surface disinfectant to support its surrounding communities.

In Hunt Valley, Maryland, Textron Systems produced precision-cut foam strips for 36,000 face shields for front-line hospital workers at Johns Hopkins Health System in Baltimore. The local crisis management team coordinated the effort and employees volunteered their personal time, including nights and weekends, to assemble the face shields. The volunteers are joining with the community to assemble and package PPE packs with a face shield, four-ounce hand sanitizer, paper bag, marker and surgical mask for use by hospital staff.
Textron Corporate
​Textron's Corporate office donated 1,000 N95 masks to the Rhode Island Department of Health to assist healthcare workers around the state.